This month  we want to share with you all you need to know to support PRIDE and teach kids the importance of being an ally.  As an adult we have the powerful opportunity to share what being ally is and what inclusivity looks like.
What does it mean to be an Ally?
To be an ally is to unite oneself with another to promote a common interest. As shown by the definitions above, people who are allies are not only helpers, but also have a common interest with those they desire to help.  Being an ally is being an advocate for the community that shows your intentions of being a supporter of the PRIDE community.
Why is important to talk to your child about this?
It is important to bring awareness to who their friends and peers are.  Beautiful souls that make the world a better place.  That it is OK to be different and be true to themselves.
Let's Start with Defining PRIDE
PRIDE is an acronym:  Personal Rights in Defense and Education.  This organization began in Los Angeles in 1966 by Steve Ginsburg.  PRIDE month also recognizes the ongoing pursuit of equal justice for the LGBTQ community and celebrates the accomplishments of them as individuals.
What is LGBTQ?
 It is an acronym for Lesbian, Gay, Bisexual, Transgender, Queer and/or Questioning.
This might be a hard part of the conversation.  Talking to children about what LGTBQ means and sharing with them the definitions and meanings behind the titles.   Remember the importance of being open and honest, here's a few simple explanations that might help you.  Taken from the resource  LGBTQ Definitions for Students
Lesbian: Two people of the same gender who love each other—two women.
Gay: Two people of the same gender who love each other. Two men or two women.
Bisexual: People can love other people of both genders. People get to love who they love.
Transgender: When your gender identity (how you feel) is different than how your body is (your anatomy). When a person with a boy body feels like a girl inside their heart and brain. Or, when a person with a girl body feels like a boy inside their heart and brain.
Queer: This word can mean different or peculiar. It can also mean someone who is gay. When used in a mean way, it is a word that hurts. Many people now use it in a positive way to identify with and celebrate people of all gender identities and all the way people choose to love each other.
For more information check out Pride Glossary: A Guide to LGBTQ+ Identities for Families 
So, How Do You Be An Ally? 
Here we have 6 ways to show you activities with your child to show them how to be an ally during PRIDE Month.
1. Volunteer
Show support to the community.  Volunteering helps counteract stress, anger and anxiety.  It makes you happier, increases self-confidence and provides purpose.  It is a way to give back to the LGBTQ community and show your support.
The HRC= Human Rights Campaign has opportunities to volunteer in person and virtually.
2. Read Books
We can talk about the benefits of reading but as a parent take the time to read with them.   More conversations can be had with the help of books written for, by and about PRIDE and the community.  They can help you when you don't have the right words to say.   Reading is also entertaining; the creative element can help you and your child connect the conversation in a different way.
Here are some books to get you started.  
3. Coloring Books
Color with them. Yes, this may be a trick to get our product in your hands, but this is what we do!  What we do is to help guide the conversation in a creative way.  Help you answer the questions you need help with.  But more importantly be a support system, because we know it is not easy and that you are not alone.  "Happy Pride!" is our conversational coloring book introducing the beauty and diversity of LGTBQ+ identity.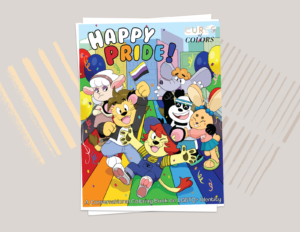 4. Support Small Businesses
Go shopping!  Who doesn't love to buy something new?  When we support small businesses, we strengthen our communities and give back to important people. We let them know that we care about what they do and who they are.  That their product is important and so are they.  It is so important to support a small business and show kids what it means.  You can go straight to your local Chamber of Commerce to find some local businesses to support.  You can also check out the Intentionalist for some resources as well.
5. Dress The Part
Who doesn't love dressing up?  Kids really do.  Show your child that it is OK to color outside the box, think creatively and have fun while being an ally.  Take them to a small business and buy product that tells a message, embraces the colors and lets them express their allyship.
When dressing up for PRIDE Month, the colors come directly from the PRIDE Flag.
Share with them that the rainbow flag is a symbol for the LGBTQ social movements.  It is also known as the gay flag and the colors reflect the diversity of the community. The PRIDE flag had 8 colors and originally, they represent an idea: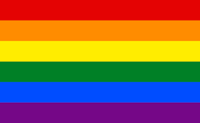 Pink for sexuality
Red for life
Orange for healing
Yellow for sun
Green for nature
Blue for art
Indigo for harmony
Violet for spirit
Here are some more resources. 
6. Parade Around
Go to a parade. This is one of the more prominent activities and celebrations around the world.  With June being PRIDE Month, you will be able to find one to participate with in any of your larger cities.  Be outside, have fun and show your kids that the community is much larger than they think it is.  Show them that there are more allies out there than just them.  As we talked through mental health last month and other topics with our kids, they need to know that "They are not alone."
Find your local PRIDE event here.
As a parent or adult there is a powerful opportunity to teach children what it looks like to be an ally.  That inclusivity can be a voice.  That we can teach them through attending large events all the way down to smaller interactions how to show support.  Sharing with them the understanding of terminology and how it supports the LGTBQ+ community.  It is important to lead by example.  It is also important to Pay It Forward and teach children the pieces they have to help change the world.