The concept of mindfulness has gained popularity over the past couple years, but is by no means a new concept. This practice can help manage stress, decrease anxiety, and help us lead more intentional lives. The best part? Anyone can incorporate mindfulness into their everyday routine.
Teaching your little one the importance of mindfulness is a helpful tool that can help regulate emotions and decrease stress. We have children's mindfulness exercises to share below.  Embracing this practice is something that is beneficial no matter how old you are!
The History of Mindfulness
Before we dive into the four children's mindfulness exercises, let's take a look at the history and where it came from. Mindfulness is rooted in early Eastern religions such as Hinduism and Buddhism, and has been practiced for thousands of years. Although there is no single founder, there are ties to the "Pali words sati, which in the Indian Buddhist tradition implies awareness, attention, or alertness and vipassana, which means insight cultivated by meditation." 
What is Mindfulness?
Mindfulness is a type of meditation where you solely focus on being present in the moment – this means feeling and sensing without interruptions or judgement. Practicing mindfulness can help direct your attention away from negative thoughts, feelings of anxiety, depression, and stress.  This practice encourages the individual to focus on relaxing the body and engaging with their surroundings.  The benefits associated with mindfulness are endless. The best part is that you can begin practicing as young as four years old, so let's share some examples.
Our Top Four Children's Mindfulness Exercises 
1. Engage With The World Around You
A core principle of mindfulness is being present. You and your little one can practice being present by simply interacting with the world around you. This can mean walks at the park, playing in the backyard, or even through conversation! Encouraging your little one to be curious about the world around them is crucial to their development. Asking questions, observing nature, and discovering new things about the world will help your little one live in the moment and appreciate their surroundings. 
2. Deep Breathing Exercises  
Deep breathing exercises are an important skill that can teach us to take a moment when we're feeling stressed, angry, or frustrated. It's important to teach your little one that while you can't always avoid stressful situations, you can learn to cope with the emotions associated with stressful environments. Taking a moment to focus on breathwork can help calm our nerves and manage our emotions. 
We love this deep breathing exercise for children, created by And Here Comes L. Try it out with your kiddo today!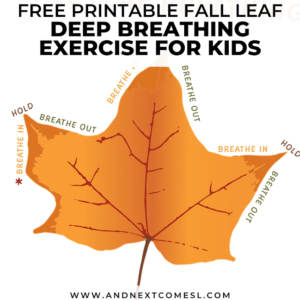 3. Practice Gratitude 
Maintaining a positive outlook is important at any age. Teaching your child the importance of gratitude can go a long way in raising mindful children. It can be as simple as asking your child what they are grateful for that day. You could create a gratitude journal with your child, where they write down three things they are grateful for everyday. 
Starting everyday with gratitude helps us live in the present and appreciate those around us. Daily journaling can help set a positive tone for the day, as well as teach healthy routines to our little ones.
4. Designate Screen-Free Time  
With children spending the last year in virtual learning, it's become second nature to spend more time on our smart devices. That's why it's important to designate time away from screens – channel your child's inner creativity through indoor or outdoor activities. This can be something as simple as playing board games, or something more extensive like an arts and crafts project. Create a bird feeder with pinecones, peanut butter, and seeds. Go outside and play "I spy" with your little ones, or build something out of your recycled products!
Need more inspiration on activities? Here are 101 free activities for you and your family! 
Let's Create Change, Together
At Cures of Colors, we are committed to providing the tools to help parents, caregivers, and educators empower our children to grow with empathy. Our coloring books range in topics, from family dynamics and anti-Asian racism to LGBTQ and the COVID-19 pandemic. We continue to unlock challenging topics in an approachable, conversational manner that teaches children how to think with love, compassion, and empathy for one another. 
Follow us on Instagram to stay updated on our latest coloring books!